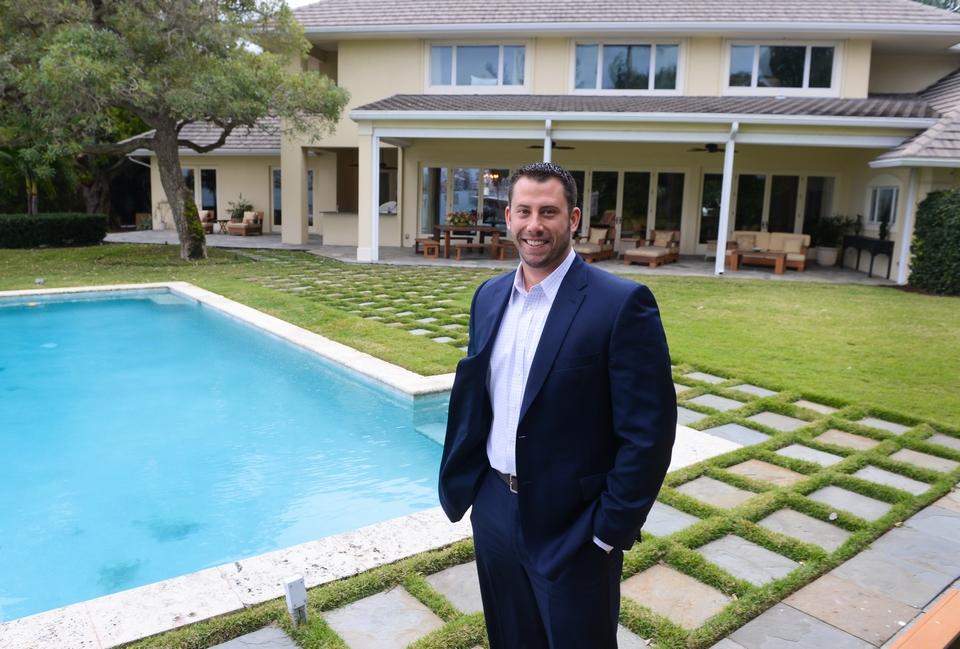 Brian Loebker is 30, but what his résumé lacks in length, it more than makes up for with accomplishments
BRIAN LOEBKER was interviewing for the most import listing of his career two years ago when a seller asked for a résumé, which for the young Realtor was noticeably meager.
Loebker blanched, then quickly countered with a question of his own: Who owned the Web domain for the seller's street address — or the Internet address to create a personalized website for the $4.4 million home?
Loebker already knew. He had purchased those rights, which impressed the seller and helped him land the sales opportunity.
The 30-year-old Michael Saunders & Co. agent has only been selling residential real estate for three years, but already he's made a name for himself with unique marketing ideas that help sell luxury properties.
Loebker has been involved in the highest-priced sale on Casey Key since 2009, the highest-priced sale in Laurel Oak Country Club since 2008 and the top sale in Castel Del Mare Bayfront condominiums since 2005. His sales volume has grown each year, too.
"There are agents who have been doing this forever; I don't have a résumé like them," Loebker said. "But nobody will work harder."
Loebker grew up in a suburb of Atlanta, in a family steeped in real estate as agents and investors. After graduating from high school in 2002, he joined the Marines — just months before the U.S. went to war in Iraq.
Before he was slated to deploy, however, Loebker shattered a vertebra in his back in an auto accident.
The crash left him paralyzed.
Doctors kept Loebker in a coma for a week while they surgically repaired his spine — a risky procedure given the break he suffered. At that point, he wasn't sure he would ever walk again.
The accident led to his honorable discharge from the Marines in 2005, and a move back to Atlanta.
"It was a hard transition to come out of the military at that point," Loebker said. "There weren't quite the programs we have now. They just kind of shook your hand and said see you later."
The surgery successful, Loebker was able to use his legs again.
He got into real estate in 2006, working for a company that bought, sold and managed apartment communities across the Southeast.
There, he specialized in troubleshooting — helping boost occupancy rates just before Sawyer Real Estate Holdings' sales.
At the time, Sawyer had a portfolio of more than 130,000 units, Loebker said.
As the market began to turn, he started helping investors with condo conversions. Many clients bought apartment complexes hoping to sell the units as condos, but when demand for housing suddenly dried up, they would call Sawyer Real Estate to fill them back up with renters.
Because so much of that work was centered in Florida, Loebker transferred to Sarasota in 2007.
Two years later, he was laid off.
Loebker worked with a restaurateur on Siesta Key to ride out the housing slump.
When the market showed signs of a rebound in 2012, he left that salaried job for a commission-only position selling homes with Michael Saunders.
Loebker said the market downturn didn't deter his interest in real estate.
"It just makes us that much smarter," Loebker said of agents in his position. "We were old enough to see it, but young enough that it didn't end our careers. It was just a speed bump. But because of it, we'll always keep sleeping with an open eye."
In his first full year selling real estate, Loebker steered 25 transactions to the closing table worth $5.5 million in sales volume. He earned an award in 2013 for handling the most transactions of any single agent in Michael Saunders' Siesta Key office.
Last year, Loebker sold 18 homes — with $12.5 million in sales volume.
He uses social media to try and gain an edge, and takes a GoPro camera along when scouting homes for out-of-town clients.
He's also leveraged the social aspects of sales, by hosting a party at a Bird Key home for a luxury listing — complete with a display of Aston Martin automobiles and expensive boats.
Chuck Morris is one of Loebker's satisfied customers.
After interviewing three other agents to list his Laurel Oak home, which he had been trying to sell for three years, Morris hired Loebker. He found a buyer for $1.6 million.
"He just really had us prepared," Morris said. "He knew what he could do, knew what he couldn't do, and did it right."