For many smaller cities in the Sunshine State meeting demand has been like "drinking out of a fire hose"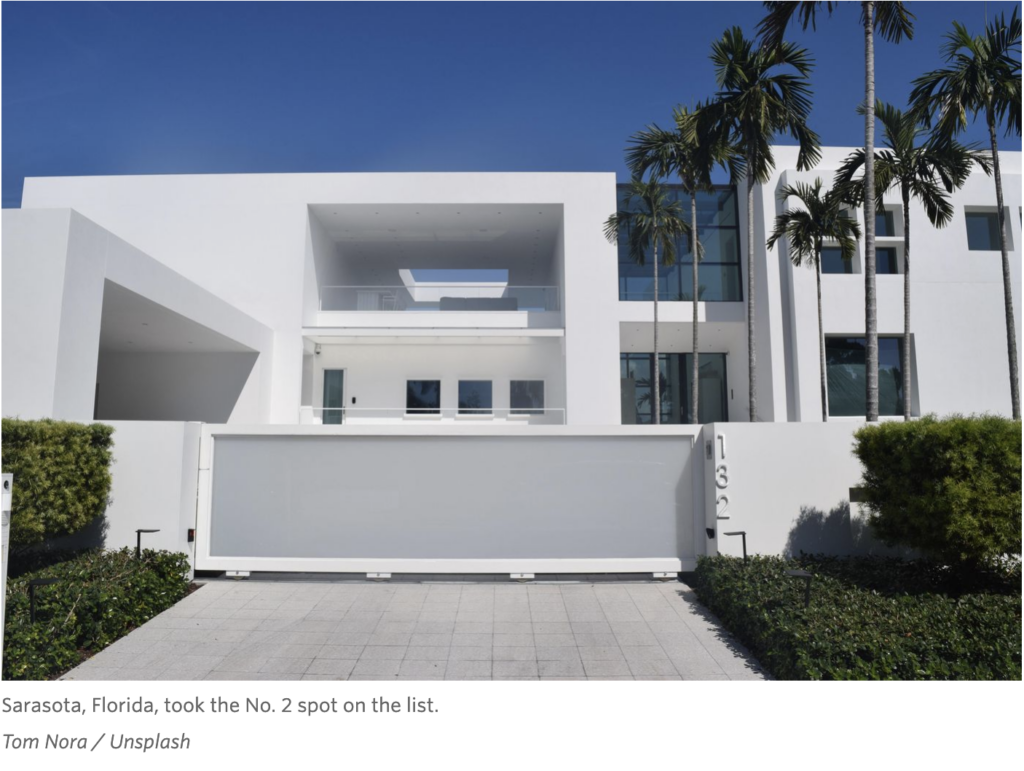 By V.L. HENDRICKSON  |  Originally Published On January 25, 2022  |  Mansion Global
Working from home has become the new normal for many Americans during the Covid-19 pandemic, fueling a migration to lower-cost states with less density and more access to nature—with Florida among the biggest winners.
But many are looking past Miami and Palm Beach on the Sunshine State's buzzy East Coast.
Naples, Florida, on the state's southwest coast, offers a relaxed, high-end lifestyle for affluent buyers. It's also the No. 1 luxury locale on The Wall Street Journal/Realtor.com Emerging Housing Markets Index for the fourth quarter of 2021, released Tuesday.
"Ultra-high-net-worth individuals can fly in on their private plane, run to their boat or private house or condo, all in under 15 minutes," said Terri Moellers, a Douglas Elliman agent based in Naples. "It's an easy, easy lifestyle."
Naples worked its way up the WSJ/Realtor.com index in 2021, surging from No. 17 in the second quarter to fifth on the list in the third quarter. In addition to its laid-back vibe, the city of about 22,000 residents also offers walkable restaurants and shopping, not to mention world-class beaches, low taxes and the warm weather for which Florida is famous.
"That's not new. It's just more important," Ms. Moellers said.
The 60 metropolitan areas reviewed within the luxury segment of the Emerging Housing Markets Index are ranked based on housing data for the top 1% of each market.
Based on housing data from December and other economic measures from the fourth quarter of 2021, the index looks at a number of indicators to rank hot U.S. housing markets. Those include growth in housing supply and demand; median listing prices; unemployment; wages; a cost of living measure; small businesses; local property taxes; amenities and the share of foreign-born residents—who contribute to the economic vitality and diversity of the area.
The Top 10
In addition to the Naples metro area, which also includes the towns of Immokalee and Marco Island, three other areas on Florida's Gulf Coast landed within the top 10 of the luxury segment of the most recent index.
Sarasota, Florida, which also includes North Port and Bradenton, took the second spot on the list, while Cape Coral and Fort Myers, about 42 miles north of Naples, ranked fifth. The Tampa, St. Petersburg and Clearwater area, just north of Sarasota, was 10th.
The Vero Beach and Sebastian region, located on the Atlantic Ocean in central Florida, was the only destination on the East Coast of the Sunshine State to show up in the top 10, although Port St. Lucie, about 32 miles south, was 13th.
Even outside of Florida, locations with warm weather and beaches dominated the luxury rankings—in part a reflection of winter slowing activity in cooler climes.
Four California locations were also in the top 10 of the luxury segment of the index. Santa Maria and Santa Barbara, which topped the index for the second and third quarters, slipped to No. 15 on the list.
The metropolitan area of San Luis Obispo, Paso Robles and Arroyo Grande, part of California's Central Coast region, was third on the list, followed directly by San Jose, Sunnyvale and Santa Clara, in the Silicon Valley.
Santa Cruz and Watsonville, California, also on the state's central coast, and Oxnard, Thousand Oaks and Ventura, about 60 miles west of Los Angeles, ranked eighth and ninth, respectively.
Kahului, Wailuku and Lahaina, Hawaii, which make up the island of Maui, rounded out the list, landing in the seventh slot.
Returning Influence of Overseas Buyers
Both Naples and Sarasota were also the top two emerging markets for the mainstream segment of The Wall Street Journal/Realtor.com list, the data showed.
"Overall, this quarter, the index very much has a luxury flair to it," Danielle Hale, chief economist for Realtor.com, told Mansion Global. "There's a lot of overlap."
Indeed, six of the markets on the top-10 list of the luxury segment comprise the best-performing mainstream markets. After Naples and Sarasota, Maui, San Luis Obispo, San Jose and Fort Myers lead the mainstream list.
One reason the two lists have so much in common might be because overseas buyers are returning to high-end markets, Ms. Hale explained.
"Some of these destinations attract not just domestic buyers, but a lot of international buyers as well," she said. "To see so much overlap in the ranking is a potential indicator that the world is getting back to normal, that people are moving past borders."
In addition, some high-net-worth-individuals may be wary of the "choppy" stock market, and want to shift some of their assets into real estate to mitigate risk of a correction, according to Ms. Hale. The looming changes to interest rates may have also pushed buyers to make deals last quarter.
"One reason high-cost markets have done so well may be because people are trying to get ahead of potential mortgage rate increases," she said.
Florida's Gulf Coast
The real estate market in South Florida has long attracted affluent residents and many buyers looking to retire these days are in search of the calmer lifestyle of the state's west coast, Ms. Moellers said. At the same time, they don't want their new home to be too quiet.
"Our boating, fishing and golfing are incredible. And because of the immense wealth in Naples, the amenities in our small city are great," she said. "Great performing art venues, great art galleries, traveling Broadway shows…people that live here want those amenities and support them."
Florida as a whole has been the beneficiary of a wave of migration during the pandemic, pushing prices up and straining inventory. Naples is no exception.
The median price of a home there was $625,000 in the fourth quarter, up 22.5% year over year, according to the first-ever Douglas Elliman report on the market, released last week.  Meanwhile, listing inventory was down 24.3% annually.
Younger families are also moving to the area, and Naples has a strong school system, according to the agent.
Ms. Moellers recently met with a family from Boulder, Colorado, trying to determine where they wanted to relocate. They own commercial property throughout the country, and were looking for a winter home. Although they liked Naples, the lack of inventory is a challenge.
"I think when they left here, they thought Naples, but honestly I had four properties to show them," she said.
Many of the same conditions exist in Naples's northern neighbor, Sarasota, ranked No. 2. It offers a vibrant cultural life, good schools and medical services, and plenty of water sports.
"It has the feel of a smaller town, yet the sophistication and culture of large cities…combine that with phenomenal views everywhere," said Judie Berger of Premier Sotheby's International Realty.
The pandemic caused "a huge paradigm shift" in the Sarasota market, which only fully recovered from the Great Recession in 2019, according to Ms. Berger.
"We went from a solid buyer's market, kind of touched on an equal market and slammed into a seller's market almost overnight," she said, adding that 2020 was a really good year and 2021 "was like drinking from a fire hose…it was crazy."
Sarasota has also seen a new pool of buyers from the West, including Seattle, California and Montana, Ms. Berger said. Before, almost all her clients were Midwesterners.
That's led to increased prices, she added. Indeed, the median listing price in Sarasota rose 18% to $459,000 over the year ending in December, according to Realtor.com figures.
"A new normal was starting for us," Ms. Berger said. "And it's still going …the inventory is low. It's not that we have no inventory. We have inventory, [but] it immediately gets absorbed. We're still having multiple offers."